We are a Family-Oriented Church: Ministries for All Generations
Our ministry is devoted to help develop and strengthen godly, stable families and individuals.  All of our ministries focus on God's Word and what it says about being individuals and families who bring God glory in all of our relationships.
Out of the three institutions given by God (family, government, and church), the family was given to mankind first and we believe that families hold a special place in God's purpose for humanity. To reflect this goal we have ministries designed to strengthen the husbands and fathers in their role as the humble servant-leaders.
We have ministries designed to help wives and mothers in their task of being supportive helpers and encouragers. We have a weekly ministry for the Youth, College, and Career (YCC) group to help them transition from dependence on others to independence in a Biblical way, and how to think and study the Bible for themselves. And finally, we have a vibrant children's ministry designed to introduce children to God and cultivate a growing relationship with – and dependence on – Him in their lives.
Verse-by-Verse Expository Preaching and Teaching
At Lighthouse Baptist Church our pastors preach the Bible using the expository method. In expository preaching the preacher takes a passage of Scripture, tells you what it means, and applies it to everyday life.  Because understanding and accurately applying the Word of God is essential to a believer's growth and maturity, and is essential for an unbeliever to come to faith in Christ, our pastors focus on presenting God's Word in a clear understandable way. 
Since all Scripture is profitable for believers, we regularly enjoy verse-by-verse preaching through whole books of the Bible, so that the believer can have the training necessary to live a God-glorifying Christian life.
Music Ministry
Music at Lighthouse Baptist is conservative.  We sing traditional hymns and biblically sound contemporary selections to respectfully worship God with music and lyrics that are doctrinally rich and Christ-honouring.  Congregational singing, special music and seasonal programs are all chosen to enhance the message of God's Word in a reverent heart-felt manner.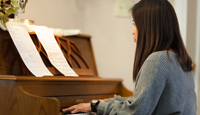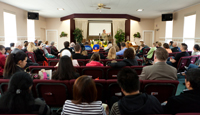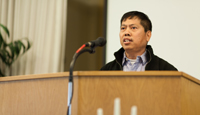 Service Times
SUNDAY
Maranatha Christian Reformed Church
11905 47 Street
3:00pm
WEDNESDAY
Lighthouse Baptist Church
11940 47 Street
7:00pm
Addictions Ministry
FRIDAY (1st, 3rd, 5th)
Lighthouse Baptist Church
11940 47 Street
7:00pm-9:00pm